---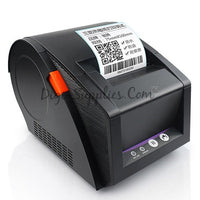 ---
Description
This is an auto-positioning, temperature adaptive , auto-paper-check thermal label printer.  It can print various size of label from 20mm to 80mm wide.
Specification
Item:  Thermal Label Printer
Resolution: 203dpi
Print Speed: 3-5 inch / Second
Max. Print Width: 80mm
Data Transmission: USB
Print Media:  Thermal paper, Thermal label paper, Self-adhesive thermal paper, 
Size: 150x220x150mm
Weight: 1.5kg
Power: DC 24V,2.0A
Working Temperature:  5-45oC
Working Humidity: 20-80%RH
Storage Temperature: -40-55oC
Storage Humidity: < 90% RH
Shipping 
On-stock items, normally the orders will be shipped in 24 hours.
Some of the items like printheads and PCB board, it may take 3-5 days to ship. We will send you message or email if there is any delays of the shipment.
All items will be send by trackable courier service
We offer different shipping options at affordable rates for customer around the world. Mostly the goods are send by DHL, TNT, FedEx, or Postal Service.  These options listed for each order are based on the customer's shipping address, product specifications (e.g., weight , size and availability) and the requested shipping time. You can choose your preferred shipping method.
Please read 

Payment & Shipping

 for more detailed shipping information
Payment:
Guaranteed safe + secure checkout by PayPal. 

 

PayPal is the only payment method accept in our store, and it's safe. We do not store or record any payment information on our site or in our database.
We also provide off-site payments like TT,Western Union, MoneyGram . Please contact us for more information.